Gran Bolero
Opening night: 03.04.2023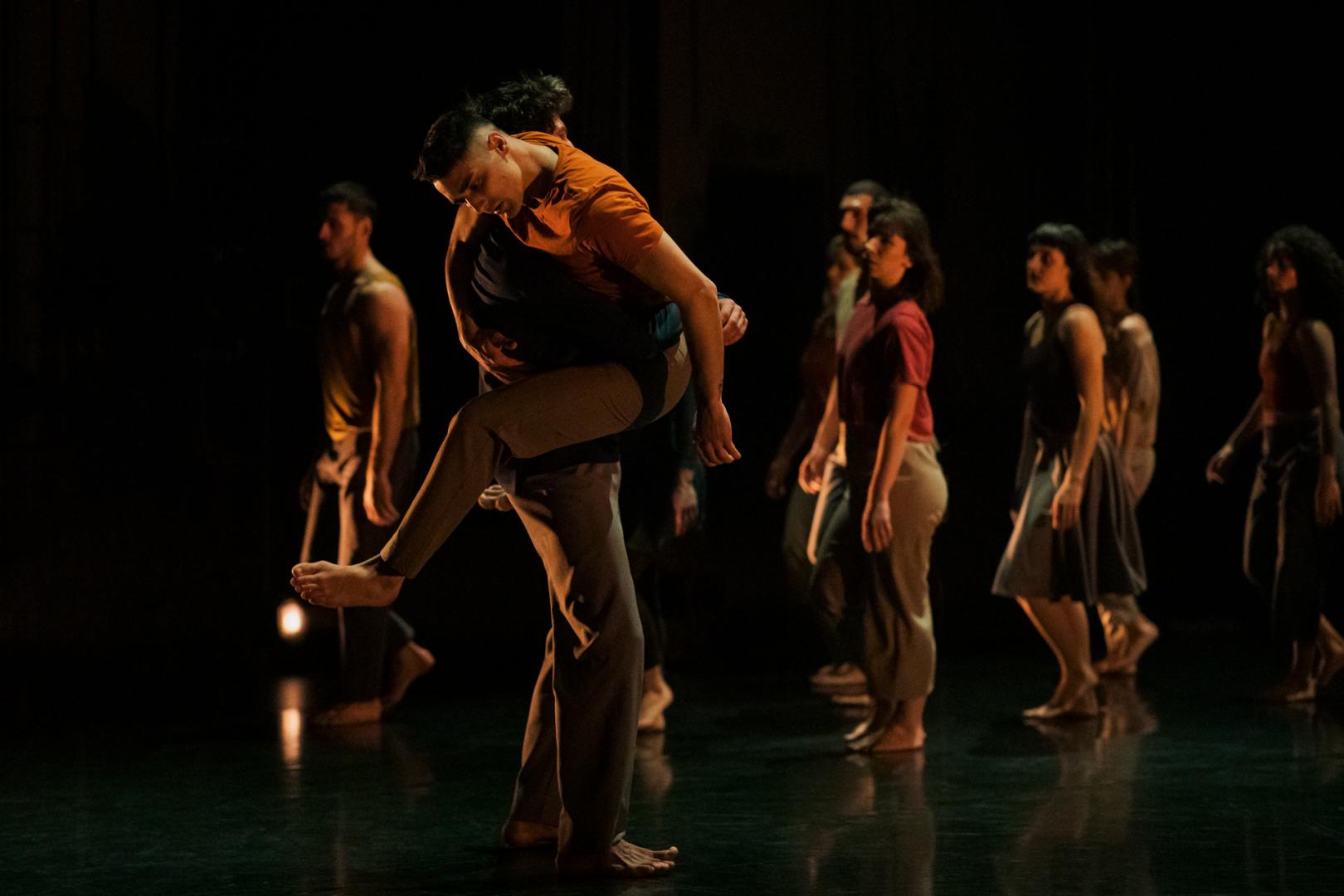 GRAN BOLERO was initially created for six Barcelona and six Madrid dancers whose performances won the hearts of critics as well as numerous awards, including the Spanish award for performing arts MAX. This time, six Zagreb and six Ljubljana dancers meet to devote themselves to movement and return to Ravel's timeless musical score.
"GRAN BOLERO is a great opportunity to remember that there was a day when we decided that dance and music would save us from everything else." @Jesús Rubio Gamo
---
Jesús Rubio Gamo with Joseph Maurice Ravel. Joseph Maurice Ravel with Jesús Rubio Gamo. Gran Bolero with Boléro, Boléro with Gran Bolero. Repetition, with music into choreography, movement, ultimately, voice. And again and again. And still and still. Repetition doesn't kill, repetition saves.
Boléro (1928) is a classical composition that is anything but classical. All orchestra, all instruments, in opposition to convention, on site and in synch for one big crescendo in C-major with some strategic doublings, conceptual jumps & all that jazz, one big repetition, or escalation, lasting a good quarter of an hour, based exclusively on a two-bar rhythm with 169 repeats. Ostinato, precisely the rhtyhm that will dominate the 'mechanical' music and 'club' dancefloors in the second half of the 20th and the first half of the 21st centuries. 'Mechanical' is no chance adjective. Boléro derives from bolero, a (Spanish) traditional dance and music format, or genre, from the second half of the 18th century, but is anything but traditional in its orchestral, instrumental growth – or rather degrowth. The ballet that Boléro was originally meant to serve as an orchestral, instrumental score for, aimed for a depiction of Spanish tradition. Ravel in his depiction with music aimed for a void or a plain with an industrial backdrop, a mechanical contemporaneity, ultimately futurity. The inner 'logic' of the composition is 'mechanical', a reduction with repetition. This is no repetition without difference, or dialectic, this is a repetition that produces minimal differences, doubling, layering, 'small variations and details inside repetition' – the devil is in the details – a repetition, or escalation, that is exhausting but never exhausts itself. Repetition as the looping of the rhythm and melody of the composition. No surprise that 'there's no music in it'. It's a concept, it's a structure. And structure is execution, not illustration. A void or a plain. No surprise that the composition rather quickly emancipated itself from ballet or depicition, although, it did find its way into film and, ultimately, choreography, again and still.
Conceptual jump. 2009 and on and on. Jesús Rubio Gamo became stuck, existentially, creatively. No surprise that he was saved by precisely that composition, based on repetition as looping. Looping has a cyclic, ultimately, spiral effect, repetition, or escalation. That's that minimal difference that never exhausts itself, it persists, it drives on and on. Again and still. No surprise that repetition as looping, or escalation, with music into choreography, movement, ultimately, voice, found precisely a cyclic, spiral depiction, or embodiment, first in a dance duet Bolero (2015), and later in a duet of dance groups, ensambles Gran Bolero (2018). Gran Bolero is an orchestrating, instrumenting of groups, relations, relationships between groups and in a group, through repetition as looping, or escalation, for community to emerge – its bond, tissue, limit, surplus – precisely in the tention of that 'more!', that drive, that persistence, that exhaustion that never exhausts itself. Not bad for a 'piece', which is repetition, and is a repetition of a 'piece', which is repetition. And again and again. And still and still. Repetition doesn't kill; repetition saves.
Dražen Dragojević
---
My work combines mathematical structures with sensorial intensity. I like to compose formal architectures of the body that allow emotion to burst. I love to explore small variations and details inside repetition, to look at the rhythmic possibilities of simple actions.
Jesús Rubio Gamo
I've written only one masterpiece – Boléro. Unfortunately, there's no music in it.
Joseph Maurice Ravel
---
Jesús Rubio Gamo (Madrid, 1982) is an independent dancer and choreographer based in Madrid. After studying ballet, contemporary dance, theatre and literature, Jesús was awarded with a MAE-AECI grant to develop dance studies in a foreign country. He moved to London where he completed an MA in choreography at London Contemporary Dance School (Distinction). His work has been presented at Festivals such as Chantiers d'Europe (Théâtre de la Ville-Paris), Dancenet Sweeden, The Greenwich and Docklands International Festival (London), FAEL (Lima), Les Plateaux (La Briquetterie-Paris), Birmingham International Dance Festival, ARC for Dance (Athens), International Theatre Amsterdam, Hay Festival or Romaeuropa Festival. Jesús was selected two years in a row (2017 and 2018) by the Platform Aerowaves as one of the most relevant 20 young choreographers in Europe.
In 2020 the Spanish National Radio awards him the Prize el OJO CRÍTICO in dance. The jury highlighted "his artisanal approach to dance composition shown in intimate projects as well as in the orchestration of big ensembles in which he manages to balance the choreographic structure with the individuality of his performers." His original Spanish creation of GRAN BOLERO coproduced by Mercat de les Flors & Teatros del Canal was awarded with the MAX Prize (Spanish national prize for performing arts) as Best Dance Production in 2020.
En-Knap, founded in the 1990s by choreographer Iztok Kovač, gave birth to the international dance comapny EN-KNAP Group in 2007, which has been the only professional ensemble for contemporary dance in Slovenia since its establishment. The group, which consists of dancers from all over the world selected at an international audition, boasts an exceptional repertoire, created in collaboration with internationally renowned choreographers and directors of explicitly diverse aesthetic provenance. Since its establishment, the company has worked with over 30 Slovene and international choreographers and theatre directors, and created 26 full evening stage works and a dance film. The company has over 50 domestic appearances with their repertory over the year, as well as regular international touring.
Zagreb Dance Company (ZPA) was founded by dance artist Lela Gluhak Buneta in 1970. In 2014, producer Petra Glad Mažar took over the management, and in 2022, dance artist Petra Valentić joined her as a co-director. Throughout many years of its existence and under the leadership of various artistic directors, Zagreb Dance Company (ZPA) has always insisted on original works and high artistic and technical levels of its productions. Regular collaborations with foreign choreographers and various artists from theatre, visual arts, and music have contributed to the Company's readiness to face the challenges of different artistic approaches and poetics. As such, ZPA has marked the careers of many dancers and dance experts today working in Croatia and abroad. For its contribution to the development of Croatian theatre, ZPA has received the Croatian Association of Dramatic Artists' awards for best choreography (2004, 2012, 2018), best female dancer (2004, 2016), best male dancer (2004, 2006, 2012), best set design (2006), and best dance production (2008, 2012). Zagreb Dance Company continually presents its productions at theatres and festivals in Croatia and abroad, performing in almost all European countries, Russia, South Korea, Israel, Egypt, the Dominican Republic, and Mexico.